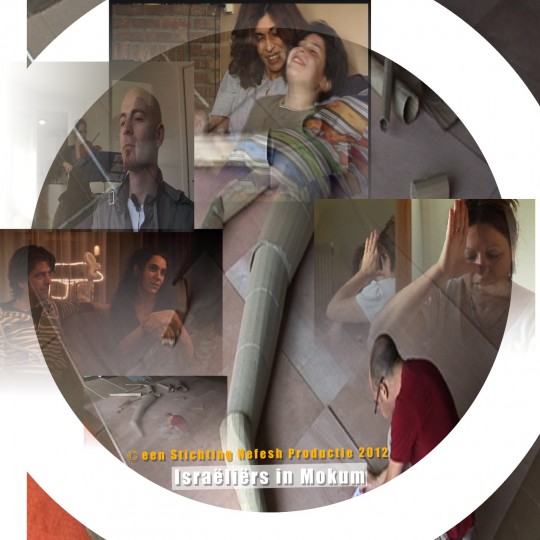 Israelis in Mokum is a series of five portraits of Israelis who have settled in Amsterdam. In the series a theater coordinator, a conductor, an artist, a single mother and a businesswoman share with the viewer a glimpse look into their life in Amsterdam.
Chapter 1. Galit Hibbel Shabi
In 1998 Galit Shabi, a 25 years old artistic designer, felt trapped in her life in Jerusalem. She wanted to broaden her horizons and sought a further development in her professional life, more in the direction of theater design. Then she took a decision that would change her life and moved to the Netherlands.
Chapter 2. Idan Goldwaser
Idan Goldwasser, from Beer Sheva, conductor of the Israeli choir Shir Balev and singing teacher, came in 2004 to the Netherlands in order to obtain his MA at the Royal Conservatory in The Hague. On the background of the preparations for the performance of the choir in music temple Paradiso, Idan tells the story of his naturalization process in Dutch society. Stories about the difficulties he had encountered are interspersed with expressions of satisfaction about his life in Amsterdam, where his sexual identity can openly expressed.
Chapter 3. Ella Jossef
Ella Jossef, from Rechovot, Israel met her Dutch boyfriend in a kibbutz and followed him to the Netherlands. After several years of working in the night life of bubbly Amsterdam she decided to quit and start a family. In this intimate portrait Ella tells about her experiences and feelings as a single mother to Ronel, an autistic child of 20 years old and 16 years Elad.
Chapter 4. Nadav Monselise
Nadav Monselise, 42 years old from Tel Aviv, was a beginning, successful lawyer and seriously engaged in a relationship. Then he decided to give it all up in exchange for a life as an artist in Amsterdam. After graduating from the Rietveld Academy he continued designing cardboard furniture and toys. Against the background of his cardboard art project in the Tropenmuseum, Nadav recalls the decision that changed his life and talks about his experience as an Israeli in Mokum, who sometimes prefers to introduces himself as an Italian…
Chapter 5. Ada Kuyer Harari
Ada Kuyer comes from kibbutz Ruhamah in southern Israel. She met at the age of 17 her current husband, a Jewish Dutchman who immigrated to Israel through the Jewish youth socialist movement Hashomer Hatsair. In 1987, sent by the Dutch Jewish Agency, they spent 3 years in the Netherlands accompaning Jewish youth immigrating to Israel. In 1998 they came for the second time to the Netherlands and Ada opened a Dutch subsidiary of ISSTA , Israel's largest tour operator. in Amsterdam. In this portrait Ada openly talks about her integration process in the Netherlands, the hectic business life and the refuge she has takes in Yoga, where she also became a master.