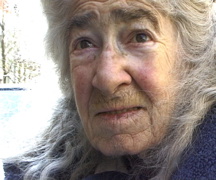 "I read the newspaper with scissors "/ a portrait of Dr.Henriette Boas (1911-2001)
This is the story of an uncompromising woman almost everybody loved to hate. Born in 1911 as the child of Marcus Boas, a Jewish professor who dedicated his life to science, Henriette Boas was considered a genius. At the age of 2 she would quote Homer to her father's students. After graduating form the university with honors, Henriette was expected by many to have a promising academic career. Instead, she became the best known writer of letters to the editor in the Netherlands. Most Dutch readers knew her as "Dr. Henriette Boas, Badheovendorp". Anyone who made even the most trivial mistake could expect a letter signed by her. She was the persistent watchdog whenever anything was written about Israel or Judaism. In this capacity, she was often frowned upon by Jews and gentiles alike.
A troublesome woman constantly finding fault? A true warrior with a strong sense of justice and a love of truth? The woman who made writing letters to the editor her life's work was an outsider by nature. Her uncompromising character led her to expose two of the most controversial affairs in the post-war Netherlands.
Holland Doc 24, November 2013
02-11 09:13 – 10:12
03-11 14:54 – 15:53
05-11 00:20 – 01:22
05-11 06:31 – 07:39
06-11 21:36 – 22:36
07-11 14:48 – 15:49
08-11 03:37 – 04:36